by Christine A. Hodge
During Community this morning, we watched a live simulcast of Pastor Paul Bergmann's sermon (being preached in the main sanctuary). As I sat at a coffee table and listened to Pastor Paul's teaching on Mark 9:14-32, my mind began to wander. But this time it was a good wandering. I was reminded of a blog post I read just days earlier from a mother who's grown son is battling cancer (and I mean battling in every sense of the word). Her name is Ann, and her son is Aaron Boydston. Lately, Ann has been answering tough questions from a woman who wants real answers.


Here's Ann's answer to the question: When you are being strong for everybody, who can you be real with?


I have been surprised how many well-meaning Christians make it hard to be "real". There were times when I wanted to share the burden of my fears but felt "hushed" by their belief that thinking and speaking any negative thoughts would demonstrate a lack of faith and "mess up" Aaron's healing. Thank God, I have learned it's not the quality or quantity of my faith, but the object of my faith, Jesus, that matters. I am encouraged that Jesus said, "Your faith has made you well; go in peace" and not "Your perfect, immeasurable, unsinkable, flawless faith has made you well." I'm trusting in my Savior, not in how much faith I can conjure up. Having faith in my faith, feels like another form of "works."
One of the several people I have been able to be real with has been Aaron himself. His God is very Big, and not tripped up by the littleness of my faith. Aaron has never asked "Why me?" but trusted in his Father God, and is honored that God has used his illness to touch lives. A key verse for him has been: "For you have been given not only the privilege of trusting in Christ, but also the privilege of suffering for him." (Phil.1:29)


In Mark 9:14-32, a man whose son is possessed by an evil spirit, comes to Jesus with a request: "If you can do anything, take pity on us and help us." Jesus answers: "If you can? Everything is possible for him who believes." Immediately, the boy's father exclaimed, "I do believe. Help me overcome my unbelief!"


That man was honest. He was real with Jesus. And that's what God wants from us today. He doesn't want us to say all the right words and do all the right things unless we are being real. God doesn't expect us to have fake faith, as I call it. Or flawless faith, as Ann calls it. He wants us to have real faith. A faith that–even if we don't like what's going on and even if we're not on the same page as God–we still trust that He is in control.


Pastor Paul said that "part of having true faith is trusting God's will." He said, "That doesn't mean that God will do whatever we want." And if we don't get our own way, "that also doesn't mean that God isn't still in control."


Pastor Paul ended the morning by asking: "In what area of your life would you like to believe more? In what area would you like to trust God more?"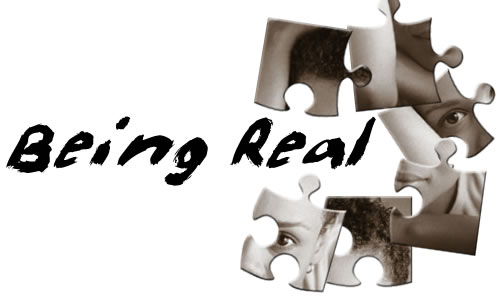 I think I'd like to just be more real with God, and more real with people, especially those who think I have it all together (Oh, if they only knew...) And I want to promote realness more among my friends and acquaintances. I want them to know that God doesn't want us to get our act together before coming to Him. I want them to know that no matter what, as Pastor Paul put it, "God is a God who shows up"...every time!